TV Mini Series: "Emma"
Release Year: 2009
Actors: Emma – Romola Garai
Mr. Knightley – Jonny Lee Miller
Harriet Smith – Louise Dylan
Frank Churchill – Rupert Evans
Comparison – "Indulge your imagination in every possible flight."
As it is so much longer than the previous version, this mini series was able to do what the 1995 BBC version of "Pride and Prejudice" was able to do for that story. Every  major scene and character is included, and the series doesn't shy away from adding its own touches here and there which further flesh out side characters like Frank Churchill and Jane Fairfax. The series also plays fairly fast and loose with the dialogue, but overall it retains the spirit of every exchange and there are few instances where these changes stand out.
One of the more major changes from the book is in the framing of the story around Emma, Jane Fairfax and Frank Churchill and how their lives were greatly influenced by the losses they experienced as children. This version of the story devotes quite a bit of time to the story before where the book itself picks up. In this way, we really do see how Emma has always been the center of attention. Unlike the other two children without a parent(s), she stays home. We see that even as a governess, Miss Taylor is bewitched by the charming Emma. And, of course, her father can see no flaws in her. Mr. Knightley is the only one to critique her, and even he admits privately that she's the most beautiful and smart of her family. The movie also does a lot of groundwork to set the stage for Emma's matchmaking. This version has Emma claiming to be the influence behind her sister and John's marriage, a change from the book. So by the time she gets to Miss Taylor and Mr. Weston and has success there, it's hardly any wonder that she believes herself an expert in this area.
The cast is also superb. There's not a single misstep in the entirety. If forced to single someone out, I might say that this version of Jane Fairfax leaned very heavily into the reserved portion of her character at the expense of her elegance. In this way, the 1996 version may have come out ahead. The Jane we saw there was undeniably elegant, and it was easy to see why Emma would be threatened by her. This Jane had a tendency to fade into the background and read as more shy than anything else. But other than that small quibble, I really loved everyone who was cast in this. Michael Gambon is probably the standout as far as excellent side characters, and he really helps sell the loving, but dependent, relationship Mr. Woodhouse has for his daughter.
Heroines – "I hate to hear you talk about all women as if they were fine ladies instead of rational creatures."
Romola Garai's Emma is very different than Gwyneth Paltrow's. Where Paltrow's version was more cool and collected, Garai's is joyous and exuberant.  This version of Emma seems to ground more of her flaws in youth and actual inexperience with the world and people than in any true character flaws. In many ways, I think this is very accurate to the book. Both there and here, we see a character who has always been the center of every social situation she's in: family, friends, and the greater neighborhood overall. It's like Frank Churchill notes later, "she presides over all." It's no wonder that this early regard from almost everyone in her life, regard pushed to the point of adoration even, would have this effect on her. We only ever see Mr. Knightley be critical of Emma and her decisions and even he can't resist pairing his criticism with compliments (to her looks, when he is talking to Mrs. Weston, and to her wit, however misused, when he's fighting with Emma herself).
Garai's version of the character definitely pops on the screen, and it's easy to see how the eyes of all would be drawn to her. She has a much more playful take on Emma's matchmaking than we've seen before, but is still able to capture the more serious moments as well. When she confesses to Harriet, after revealing the truth about Mr. Elton, that she would be lucky to resemble Harriet in any small way, it's very touching.
I also like all the attention that is given to Emma's relationship with her father in this version. We see many small moments of the two of them together, with Emma fretting over her father's scarf and worrying over the brewing conflict between him and John Knightley. I also really liked the way they dealt with the situation about their living arrangements after Emma and Mr. Knightley get engaged. It works both as a comedic scene, with Emma barging into Knightley's office and declaring they can never marry and rushing out again, and as a serious one, as we can also see the true pain Emma is feeling about the prospect of hurting her father and her refusal to put him through that.
Heroes – "What are men to rocks and mountains?"
I absolutely love Jonny Lee Miller in most everything, and his take on Mr. Knightley is probably one of the strongest selling points for this version of the story for me. I really have zero criticisms for the way he portrays this character. In the book, Mr. Knightley really doesn't have a lot to do in the first half of the story. He kind of pops in and out, has a big fight with Emma, and then disappears for a good bit until reappearing about halfway through the story. But this version makes good work of including him better in scenes and giving him more lines here and there to keep him ever present in viewers minds.
Miller has great delivery on some of the more comedic lines, like his and Emma's teasing about the use of carriages. And, of course, he excels in the scenes in which he fights with Emma. This version's fight over the Harriet/Mr. Martin situation is the most extended of all the versions, and it's great watching them both shine. And then in the Miss Bates scolding, I love the way he delivers his lines, especially the "badly done." You can see a marked difference in this fight versus the first. Miller's able to add a new layer of disappointment and concern that speaks well to the character's change in perspective to Emma.
I also liked all the scenes they include of Mr. Knightley walking about the countryside, playing in the snow with his nieces and nephews, etc. It's a good highlight of the type of active, outdoorsman that he is presented as. This version also gives us personal insight into Mr. Knightley's own thoughts. After the ball scene, we see him imaging Emma in his own home. It's a good contrast to the two scenes we had before where Emma imagines Mr. Knightley married to Jane Fairfax. It's great having both scenes with the different insights into their different thoughts and feelings.
The movie also includes several little scenes between Harriet and Mr. Knightley. We see them walking together, sitting next to each other, and talking privately. It all comes across in a very natural way, but then when Harriet brings up her hopes for the future, we, the audience, can see the groundwork lain. And it's easier to understand Emma's real concern that Harriet may be a true threat to Emma's future happiness.
Villains – "I do not want people to be very agreeable, as it saves me the trouble of liking them a great deal." 
The Frank Churchill of this version leans heavily in on the villainous side of the character. He takes every opportunity to criticize Jane behind her back, commenting to Emma about her hair being ugly and how unlovable a reserved person is. He seems to be criticizing her when he sidehandedly comments about the mistake he made in bring up Dr. Perry's carriage plans when hardly anyone else knew about it. And the flirtation with Emma is at a peak. At the Box Hill party we see him making more snide comments to Jane, all while being completely overboard with his compliments to Emma, even laying on her lap at one point, a shocking level of familiarity at that time.
He also seems often poor tempered. Whining and complaining about his life to Emma during the strawberry picking, and then, again, being a poor tempered brat at Box Hill. The actor's take on the character really works well with this interpretation of the character, as he has a bunch of perfect facial expressions that highlight how shallow and spoiled Frank can often be. All in all, it's hard not to agree with Knightley's assessment of the situation: that Jane could do much better.
There is an interesting added twist to his character in that we see early in the movie the scene where he is sent away from home after his mother dies. And then towards the end, we see him return to the same spot. It seems to be implying that he holds some bitterness towards his father for sending him away. But the movie just barely brushes on this angle, and even the interpretation I'm making from it is by no means super clear. It's an odd little track that I wish they had either more fully committed to exploring, in context of the character traits Frank exhibits as an adult, or left out entirely. As it is, it's a bit weak, and like I said, I don't feel fully confident that I even understand fully what they were going for.
Romance – "A lady's imagination is very rapid: it jumps from admiration to love, from love to matrimony in a moment."
I really, really like what they do with the romance in this version. Like I pointed out in my review of the book, the romantic plotline isn't really even hinted at until over halfway through the story. So if readers aren't invested in Emma's comedy and antics, it can be a bit of a letdown. And in a movie version of the story, it's even harder to pull of this type of late-game introduction of a romantic storyline.  If not handled right, it can make the romance seen as an afterthought and not properly built to.
Here, however, by giving Mr. Knightley more to do and more lines, the movie is careful to lay a thorough groundwork for the romance throughout. There are at least two instances that I can think of specifically where the movie goes out of its way to show how Mr. Knightley's actions are often motivated by his feelings for Emma. First, when John and Isabella are visiting and John begins to become snappish with Mr. Woodhouse, the camera cuts to Mr. Knightley's face and we see him observing Emma becoming more and more distressed. Even though they are still fighting a bit over the Harriet/Mr. Martin thing, it's clear that Mr. Knightley' speaks up to redirect his brother in an effort to bring Emma more peace. And secondly, at the ball, we see Emma become increasingly upset as she dances nearby Harriet and witnesses the rudeness of Mr. Elton. Again, the camera cuts to Mr. Knightley and we see his face as he watches Emma becoming more and more upset before he steps forward to aide Harriet. Both of these are very small moments, but they are so important for constantly fixing audiences' attention on the importance of Emma to Mr. Knightley. And in both instances, Emma expresses thanks for Mr. Knightley's actions, either in a quiet smile towards him or directly spoken to him.
I also really like the way they film the proposal scene and the moments directly afterward. I would say I wish they had filmed it in a bit less of a sunny location as you can tell both actors are having to squint at each other while talking. But as for the added dialogue and the delivery of lines, I think it's excellent. Miller has perfect delivery on the "If I loved you less, I could talk about it more" line. And I really liked the added lines they gave Emma for her response to his declaration. As the book doesn't include these lines, all the movies have to make something up here, and I think they did very well.
I also like the scenes after, the quiet, intimate moments when the two are sitting on a private bench discussing when they realized they loved each other. It has a nice balance of romance and a continuation of the type of friendly teasing that will always be in their relationship. And, of course, we get to see them go on their honeymoon and go to the seaside. The movie does a good job of introducing this fact, that Emma has never been to the seaside, early in the movie and then touching on it here and there throughout. So it's a neat little button on the movie to end with her and Knightley standing on a cliff side looking out over the ocean.
Comedy – "For what do we live, but to make sport for our neighbors, and laugh at them in our turn?"
Louise Dylan does a fantastic job as Harriet Smith. She perfectly captures the character's simple beauty and charm, but also her lack of real depth. I love her facial expressions as she's posing for her portrait and trying to secretly sneak Mr. Elton's pencil. I also think one of the funniest lines in the entire movie is when she's trying to work out Mr. Elton's riddle and when asked by Emma to put the words "ship" and "court" together, she excitedly comes up with "Ship court!" Good stuff.
The Eltons are also always good for a laugh in more of a love-to-hate them sort of way. Mr. Elton's exuberance early in the movie is overwhelming. And he's at his peak at the Christmas party where he rudely snaps at one of the servants not to crush Emma's coat. And then constantly bothers her with questions and, later, literally wedges himself in between her and another guest. You have to wonder if Emma was beginning to question whether Elton would even due for Harriet, let alone herself.
One of Mrs. Elton's best moments is when she commenting about abhorring being over-trimmed while literally being covered with feathers and ruffles. The movie also does a great just with some quick cuts between characters when Emma is trying to plan the trip to Box Hill. We see how instantaneously Mrs. Elton dominates every social plan to make herself the center of attention. It's also a nice little karma moment for viewers when we see Mr. Elton struggling to pull along the donkey that Mrs. Elton insisted on riding to strawberry picking. It's completely ridiculous, but he literally yoked himself to this situation, so…
Fun facts – "Life seems but a quick succession of busy nothings."
I remember hearing in some commentary or another that the stylists exaggerated Mr. Elton's puffed up hair do more and more throughout the movie to signify is growing ego and ridiculousness.
Jonny Lee Miller and Blake Ritson (Mr. Elton) had both previously played the same Austen hero, Edmund Bertram, in two different adaptations of "Mansfield Park." We should have seen them both in those first had I reviewed these in the right order, but alas. I bet everyone can guess who I thought did the character better…
There was a surprise spattering of snow outside the house that was staged as Hartfield one day.  And when the director was notified of it, they rushed cameras down, along with the signature swan that was often shown outside of the house, to capture the view for the winter scenes.
Christina Cole (Mrs. Elton) played Caroline Bingley in "Lost in Austen." A pretty good fit, I'd say.
Emma is often shown at Hartfield wearing a small watch adornment attached to her dress. This was included to signify that she was the lady of the house.
Best Movie Gif/Meme: "I dearly love a laugh."
Have I mentioned that I love Jonny Lee Miller's version of this character? Even in small moments like this, when he's being exasperated by Emma's silliness:
And this movie has one of the best Austen dance scenes, as we get to see our two main characters dance together while clearly enjoying each other's company. It's also fun because Miller makes several awkward facial expressions throughout that show that he is becoming more and more aware of how in love with Emma he is, even though she's still obviously clueless.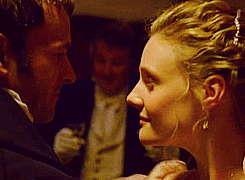 In two weeks, I'll review a modern adaptation, "Clueless."