Movie: "Clueless"
Release Year: 1995
Actors: Cher – Alicia Silverstone
Josh – Paul Rudd
Tai – Brittany Murphy
Christian – Justin Walker
Comparison – "Indulge your imagination in every possible flight."
"Clueless" is definitely a movie of its time, but it's still a blast to watch today. Similarly to "Bridget Jones's Diary," is a modern adaptation of Jane Austen's work which means that while some things follow along pretty faithfully, there are also a lot of changes to make it work as a modern tale.
I really like the initial match-making switch. Instead of a governness, we see Cher setting up two of her teachers in an attempt to improve her grade. On one hand, this makes Cher's reasons much more self-centered than Emma's, but the change works well, I think. After her initial success, Cher decides that she likes helping people like she did for these two, sad, pathetic teachers. And so she takes Tai (Harriet Smith) under her wing. In many ways, her goal in helping Tai is much more centered around making Tai popular than specifically matching her up with someone. In the book, Emma had already proclaimed a desire to match Mr. Elton up before zeroing in on Harriet. Here, we see Cher directing Tai's love life more because Tai's original interest (a drugged up skater boy) would not be a good match for a popular girl. Elton is then selected as a proper match for someone of Tai's aspiring popularity.
This arc then comes full circle when we see Tai become truly popular and then snap at Cher in all of Tai's mean girl glory. So Cher's "what have I done?" is much less about her project girl being interested in someone whom she realizes she cares for (though that is a factor), and more to do with how sweet and nice Tai had been before Cher's meddling in her life. Luckily, on Tai seems to course correct on her own at the end of the movie.
All of the actors cast for various parts work great, and it's definitely one of those movies where you see really young version of actors who went on to do bigger projects. Brittany Murphy, for example, is barely recognizable as Tai. And obviously Paul Rudd would go on to be a household name type actor. But even the smaller roles, like the two teachers and Cher's father, are all pitch perfect and really help round out the movie.
Heroines – "I hate to hear you talk about all women as if they were fine ladies instead of rational creatures."
Cher is probably the least likable Emma we've come across so far. On one hand, this is understandable because she's the only teen version we've had. At 15-16, she's four or five years younger than the version in the book and the other two adaptations I've reviewed. Not to mention the very different education and expectations she would face in L.A. in the mid-90s versus the Regency period. But she's also given the fewest opportunities to show her good side as well. The movie leans in heavily to how spoiled she is, doing very little to counterbalance it with good deeds. Like in many other versions, it mainly relies on showing her care towards her father as the best look into her inherent goodness. But as her father is also less likable than other versions…
Not to say that you don't end up rooting for the character, just that it's a bit harder. Her constant up-speak is also a bit tough to handle, dating the movie and also signaling what is now a cliche of an entire new level. At the time, it was just a valley girl thing, but now the trope is so often connected with idiocy that it doesn't do the character any favors to modern viewers.
I do like that the big realization moment for her is less her being rude to one individual, but seeing the type of person she's turned Tai into. Tai was originally this sweet, friendly character. And after snapping and being rude to Cher, we see Cher realize that actual "value" of the things she's been sharing with Tai. Tai is like a brutal mirror that is held up to Cher, and that, along with the realization about her general "clueless-ness" is enough to inspire change. It's also pretty clear that she doesn't do any of this in an effort to impress Josh, making it feel like the type of change that will be more lasting.
Heroes – "What are men to rocks and mountains?"
Josh is a pretty solid mid-90s teenage interpretation of Mr. Knightley. Having him being interested in a law (and with a less than stellar mother) is a good excuse for having him want to hang around Cher's house and work with her dad. Of course, we can't have him scolding Cher in quite the same way. It wouldn't come off nearly as well with the age difference being so much more close and the times making it all sound much more patronizing and unappealing if he had done. Instead, we see him being more subtly critical of Cher's superficial tendencies while at the same time clearly enjoying her company.
And, of course, no discussion about Paul Rudd can be had without acknowledging the freakishness of his lack of aging. It almost makes the age difference seem weird since he looks so much the same when he's much older that he could just as well be in his mid-thirties in this movie as younger twenties.
I really liked that they included a version of him coming to Tai's rescue and dancing with her. This version does a weird thing where we have the "rescue" of Tai by Christian, as well, but then it does nothing with this. It's already established that Christian is gay at this point, and there is no inclusion of Cher becoming confused by any reference of a "rescue" by Tai. It's kind of a weird choice. Instead, it's used mostly to elevate Tai's popularity which results in her later nastiness to Cher. But eh, I still like that they included the Tai/Josh dance thing. It's a great moment for giving Cher more insight into why Josh is such a great guy.
Villains – "I do not want people to be very agreeable, as it saves me the trouble of liking them a great deal." 
Elton is by far the biggest "villain" in this movie. Not only is he not interested in Tai, a stuck-up ass about popularity status, and all of that. He repeatedly accosts Cher when she's clearly said "no," pretty much forcing her to get out of the car to avoid him. And then he leaves her in a bad part of town to be mugged. Much worse that the book version of Mr. Elton. I do like that he's one of the few characters whose name remained the same. I guess it works pretty well for a snobby L.A. teenage boy in the 90s.
Christian, on the other hand, is really not much of a villain at all. Other than perhaps leading on Cher more than he should have, he seems like a pretty decent guy. It's kind of unclear why he misleads her at all in the first place. He must know that she's misinterpreting his actions, but at the same time, he's not too subtle about hiding true orientation. Everyone other than Cher seems to see it, and we don't see any push back in the movie itself about it. It's definitely a unique take on her misunderstanding with this character role. This makes much more sense than any hidden romance would have, given the time period. And it's kind of nice to have the movie end with Cher and Christian kind of being besties, instead of the tense, friendship-pretty-much-over state that Emma and Frank Churchill are in at the end of the book.
There's also the jerk lawyer guy who snaps at Cher at the very end of the movie, thus making Josh come to her defense, thus serving as the impetus for the relationship getting started. So is he really a villain in the end?
Romance – "A lady's imagination is very rapid: it jumps from admiration to love, from love to matrimony in a moment."
The romance in this movie does play second fiddle to the comedy. There are a few moments here and there that speak to Josh and Cher's ultimate future, but they are scattered in between the bigger comedy scenes featuring Tai, Cher, and Dionne's antics. We have the aforementioned dancing scene, of course.  There's a small moment where Cher and Josh are hanging out at home watching a movie, and Cher seems to make a passing comment that sometimes having a quiet evening at home is more fun than all the social outings one could come up with.
And Josh is the one to come to Cher's rescue after the Elton incident. This serves as a good point for Josh realizing that he's into Cher as we see Cher correct Josh's then girlfriend on some quote from Shakespeare. Josh smiles at this and seems not at all concerned that his girlfriend is pretty displeased at being shown up by a high schooler. And we get an even clearer idea of his interest when he follows Christian and Cher on their "date" just for "safety." It's very cute.
The actual romantic conclusion of them kissing on the stairs is a bit awkward, I think but fine enough. And then I think the cut to the wedding scene is pretty hilarious and a nice hats off to Jane Austen's endings always featuring weddings of the main characters. And in this scene, the already established relationship between Josh and Cher reads as much more natural and enjoyable to witness.
Comedy – "For what do we live, but to make sport for our neighbors, and laugh at them in our turn?"
Well, watching it now, there's two sides to the comedy coin. There are the things the movie meant to be funny. And there are the things that are simply hilarious because of how dated it makes the movie feel. The very first scene, even, with Cher selecting her outfit on this old computer screen is just comical. Especially because it's supposed to be set up as a way to establish how well-off Cher is. But to modern eyes…it's some janky stuff.
The fashion, also, is hilarious. Even growing up in the 90s myself, it's hard to get a good read on how accurate this way versus how much of it was blown up to extremes to show off Cher's situation. Either way…man, gotta love it. Even Cher spends a moment (in an odd tonal break in the movie) to point out how bad men's fashion was at the time. But, on the other hand, her friend Dionne is pretty much literally wearing a plastic bucket for a hat in the opening scene. So.
Dionne and her boyfriend don't have any obvious parallels in the book itself that I can think of. But they play well for humor here. I especially like how all the comedic moments early on that highlight their bickering and public feuding are later tied together to show that, while they enjoy the drama in the crowd, in private they are much more caring and loving towards each other. In this way, they serve as a good example of love to Cher as she's going through her awakening period.
Fun facts – "Life seems but a quick succession of busy nothings."
The director was asked to simply create a movie for teenagers. It was her own fondness of reading "Emma" as a teenager that inspired her to adapt that book into a teen movie.
There are 63 different costume changes in this movie.
Gwyneth Paltrow was considered for the role, but never auditioned. One would imagine she had her own "Emma" thing going around then.
While according to filming this was his second movie, "Clueless" was released first and thus is the movie that introduced the world to the lovely Paul Rudd.
Best Movie Gif/Meme: "I dearly love a laugh."
I didn't actually do it, but I was tempted to count the number of "As ifs!" we had in this movie.
This seemed to be the most classic "Emma" moment in the entire movie: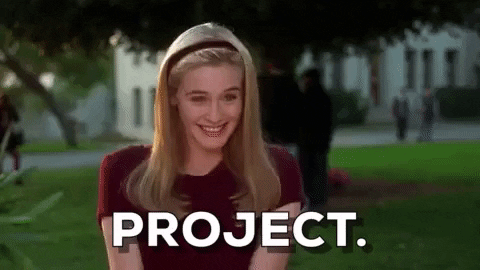 In two weeks, I'll review the YouTube series "Emma Approved."