Movie: "Bridget Jones's Diary"
Release Year: 2001
Actors: Bridget Jones – Renee Zellweger
Mark Darcy – Colin Firth
Daniel Cleaver – Hugh Grant
Bridget's Mum (actually the character title, according to IMDB!) – Gemma Jones
Comparison – "Indulge your imagination in every possible flight."
As I mentioned in our comfort reads post on Monday, "Bridget Jones's Diary" is one of my go-to comfort reads when times are stressful. But, I think like most Americans, I watched the movie before I was aware there was a book. And in many ways, it has served a similar purpose, if in a different format. It's definitely one of those movies I go to when I need a quick laugh and a guaranteed happy ending.
Having just re-read the book this last winter, however, it was interesting to note the various differences between the two stories. While it's clear that the book was inspired by "Pride and Prejudice," in many ways the movie leaned much more into this theme than the book ever did itself. Most notably, the similar history and confusion between Mark Darcy/Mr. Darcy and Daniel Cleaver/Mr. Wickham is missing from the book. There, Bridget simply doesn't get a long with Mark until she begins to be around him more and appreciate his good qualities. But she doesn't have any false impressions based on lies from Daniel. Similarly, Daniel is a scumbag for actions he takes in this book itself, not any personal history of breaking up Mark's marriage. It works well in the book, but with much less time to establish its story, I really like that the movie went full throttle with upping the similarities between these two stories.
The characters themselves (other than perhaps Daniel) are a fairly far cry from the originals. Bridge is not a refined lady who earns respect in spite of a nonsense family. Mark Darcy, while stuck up, is not nearly as clueless with women as Mr. Darcy is (especially with that first proposal in the book). Bridget's mum (an interesting combination of Mrs. Bennet and Lydia) is probably the most similar to her book counterparts.
I've watched the two sequels as well, but they don't capture the same magic as this one. Having lost the connection to the book, the movies fall back on some tired comedy moments, repeating great scenes from this book to lesser effect. I don't hate them, but they're definitely not up to the standard that this one. The most unforgivable aspect of them both are the hurdles that are thrown up between Bridget and Mark. The third one is especially bad on this front, and I've still not forgiven it.
Heroines – "I hate to hear you talk about all women as if they were fine ladies instead of rational creatures."
Bridget Jones is no Elizabeth Bennet, that's for sure! But that's not a complaint, as this  movie is clearly not attempting to be a straight modern adaptation (unlike "Clueless" is for "Emma"). Her comedy elements are also not similar to any of the Bennet sisters. In the book, the things that make us laugh at the Bennet sisters are also things that make us, not dislike them, that's too strong of a word, but things that would disqualify them as leading ladies themselves. Their silliness is of the conceited variety, and they all lack self-awareness. While Bridget is ridiculous, it's clear that she's aware of it (if still not able to prevent it in the moment). She's just the sort of character who is endearing to many women, I think.
We can all sympathize with her struggles with body image. Though I will say that her complaints about weight when starting out from a "whopping" 135 lbs are a bit hard to stomach. I'm not sure if this is a changing times thing or what, but it really stood out to me in this re-watch, how off-base her actual weight was to her struggles. While in some ways this is highly accurate (many women struggle with concerns over weight that wouldn't occur to anyone looking at them), the way the movie (and book) present it makes it seem like most women are supposed to fall in Bridget's category. I can't speak to average weights of women, but I do think that to present 135 lbs as some great normal of "women who want to lose weight" is a bit out of touch. All of that aside, however, the general struggles of beautifying oneself that Bridget goes through are highly relatable.
So, too, her feeling that she always comes across as awkward and ridiculous.
"Because every time I see you, you seem to go out of your way to make me feel like a complete idiot. And you really needn't bother. I already feel like an idiot most of the time anyway."
Of course, being an extreme, the character often is those things. But her feelings are just the sort that many women struggle with when stuck in a self-critical spot. What makes this really great, however, are the few moments when the camera shifts perspectives to show us Bridget through Mark Darcy's eyes. Suddenly, through his lens, she is bright, funny, and magnetic in her ease of just being herself. It's a wonderful way of contrasting the inner struggles that many women have with self-worth with the way they are viewed by those who love them.
Heroes – "What are men to rocks and mountains?"
There's no exaggerating the sheer perfection it was on whomever's part who had the idea to simply recast Colin Firth as the Mr. Darcy character. In 2001, the BBC version was still fresh enough in everyone's minds that I'm sure it was a challenge to think of a replacement actor. So whoever was smart enough to just say "Hey, why not just get the same guy?" deserves serious kudos. It's the kind of thing that could read as very campy in a different movie or with a different character/actor. But here, it works perfectly. Just by having the same actor play the part, the movie benefits from a bunch of unspoken and carried over assumptions. Very little leg work needs to be done to lay the foundation of Darcy's character or his gradual shift in appreciation for Bridget.
There first meeting is one of the moments that is very similar to the book's version: an immediate distaste on Darcy's part, an overheard conversation of rudeness, and the stage is set. However, unlike in the book, here it is almost worse because of Bridget's more real vulnerability to these types of nasty statements. Elizabeth was self-assured and could see the sheer ridiculousness in Darcy's rudeness in the book and laugh it off. Bridget has real insecurities she's dealing with and Mark Darcy's works strike at painful parts of herself and are harder to take for the viewer who is already rooting for her.
But to contrast this more harsh meeting, we also get to see more of Mark Darcy's kindness and humor. His offer to let Bridget interview his client when she was on the verge of being fired is very noble, not the least because he's aware of her tendency to make these types of formal moments rather ridiculous and still goes forward with a live TV interview. And, of course, the birthday dinner that follows. Luckily, unlike the 1995 "Pride and Prejudice," we get to see Colin Firth smile and laugh a lot more in this section. It's a very necessary moment to establish the good chemistry between these two when they're on their own, uninfluenced by the negative forces often swirling around them (their parents, Natasha, Daniel, etc).
Villains – "I do not want people to be very agreeable, as it saves me the trouble of liking them a great deal." 
Natasha, Mark Darcy's law partner and brief-fiancee, is the Miss Bingley of this story. Though, ending up with even a short engagement, she has much more success than the latter character ever did. She's only around briefly in a few scenes, but she always serves as a stark contrast to Bridget: cold, uptight, and condescendingly disapproving of anything that approaches fun. Her statements of Bridget and Daniel's childishness while on their weekend giveaway are in complete opposition to the clear wishfulness that is plastered all over Mark's face as he watches the other couple goof around. Beyond the comparison, any woman who snaps her fingers at someone to get them to "come along" is by definition a villain. One only wishes that this movie had a similarly cathartic scene between these two as the one where Mr. Darcy shuts Caroline Bingley up with his comments about Elizabeth being one of the handsomest women of his acquaintance.
Daniel, of course, is the true villain. Like Wickham, it's easy to see the allure and immediate attraction of the character. He's charming, good looking, and just the sort of confident that makes one feel quite singled-out if he pays you any attention. Bridget is quick to fall under his sway. Unlike Wickham, however, I feel like Daniel is also more obviously sleazy from the start. I'm not sure if it's just my general "meh"-ness about Hugh Grant or not, but Daniel definitely has a "player" vibe right from the get go that immediately puts up flags. It's really no shock when Bridget finds another women at his flat half way through the movie.
But his true sleazebag qualities don't become clear until the last third. Especially during the scene where he breaks up Bridget's birthday dinner. All of his lines here are just terrible and no woman in her right mind should go for it: "If I can't make it with you, I can't make it with anyone." Yuck! Talk about veiled insults. Luckily, Bridget isn't taken in a second time. Though it still isn't until much later that she realizes that Daniel lied about his relationship with Mark, that Daniel slept with Mark's wife, not the other way around.
Romance – "A lady's imagination is very rapid: it jumps from admiration to love, from love to matrimony in a moment."
I'm halfway convinced that Colin Firth was cast as Mark Darcy just so we could get the exact same adoring look from him to Bridget as we had from Mr. Darcy to Elizabeth. It's so distinctive that you can't help but notice the similarities between the two. However, extra props go out to the child actor who plays the young Mark Darcy in the flash-back credits scenes we get. Towards the end of the sequence, we see him give the same adoring look to young Bridget, and it's nearly pitch perfect to Colin Firth's look. Bravo!
Mark Darcy definitely has one up on Mr. Darcy when it comes to the "first proposal" scene in this movie. Obviously not an actual proposal, but it serves the same purpose: letting the clueless heroine in on the fact that she's attracted the attention of the hero, someone she's hated up to this point and thought hated her. But, unlike Mr. Darcy, Mark avoids too many direct insults to her family and doesn't have the same overarching pride throughout his speech. He does list off some of Bridget's quirks, but sums it up by saying that he "likes her just as she is." Notably, not "in spite of what she is," which is essentially what the original Mr. Darcy said. Bridget's later meet-up with her friends highlights just how special this little phrase is, with each of her friends bewildered and asking for clarification, is she sure he didn't mention a smaller nose or something?
Bridget, of course, follows up with her own speech towards the end of the movie. She slips in a funny little line about rethinking the length of his sideburns (something I think most audiences would agree with here and potentially also in the 1995 movie), but she ends with her also liking him. Of course, this is all followed with his engagement announcement and the grand romantic finale doesn't come until later.
The last scene is really great in that it commits fully to the romance of the moment, but doesn't lose sight of the comedy. Bridget's avoiding kisses so she can escape and change into skimpy underwear is hilarious. Leading, of course, to the final "misunderstanding" where Mark spots her journal and leaves suddenly. My only quibble with this final scene is Mark's last line after Bridget comments that nice guys don't kiss like that. His line is "Oh yes they fucking do." And, I don't know, I'm not a prude about swear words or anything, but this line just feels so off. Colin Firth seems to stumble with the delivery, and it's unclear what the tone is really supposed to be. I always find it distracting and that it takes away from the climax of romance we're supposed to be in the midst of. The one line in the entire movie that I think should have been work-shopped some.
Comedy – "For what do we live, but to make sport for our neighbors, and laugh at them in our turn?"
Gemma Jones is simply excellent as Bridget's mother. Whenever she's on screen she captures the moment and is hilarious. The movie does an interesting thing by essentially combining the characters of Mrs. Bennet and Lydia into one character here. We have the ridiculous mother, desperate to marry off her daughter on one hand. And then the silly, frivolous woman who dashes off with a sleazy man, leaving her devastated family behind. Of course, it all works out better for Bridget's mum than it did for Lydia, as she gets to return to her loving, and shockingly forgiving, husband in the end and essentially pick her life back up where she left it.
Bridget's friends are also good for some laughs, particularly her snobby co-worker Perpetua, and Tom, who is always trying to pick up men with his fading fame from a one-hit-wonder song. I also really love the dinner scene where Bridget finds herself surrounded by "smug married couples" and each couple introduces themselves with matching "hi's." It's cringe-worthy and perfectly puts you in Bridget's corner during the entire thing.
But, by and large, much of the comedy comes from Bridget herself. It's really hats off to Zellweger for carrying to much of this movie herself. With the wrong casting, so much of this could have gone poorly.
Fun facts – "Life seems but a quick succession of busy nothings."
We've seen Gemma Jones and Hugh Grant before in "Sense and Sensibility" [1995]. I think they're each better cast in their roles here. As I said, Hugh Grant isn't a favorite of mine, but I think he shines in roles like this where he can lean into some of the sleaze. And Gemma Jones, while fine as Mrs. Dashwood, is much better when she's allowed to spread her wings with the comedy.
Zellweger committed fully to the part and the accent. She used it throughout the entire shooting of the film, even when the cameras weren't rolling. Apparently, Hugh Grant didn't hear her real accent until a party after the movie was finished. She pulled it off so well that she was able to pass as a British citizen while studying for her role and working at a publishing industry for a month.
She also gained 25 lbs for the movie. I had heard this fact several times before as some  big deal of commitment to the part. But to my mind, it just adds to the weirdness of 135 lbs being treated as some huge weight that someone would struggle against. If anything, this fact just makes me think that Zellweger was unhealthily skinny before hand if she came in at 110. The book has a nice bit where Bridget gets to her dream weight, and everyone around her comments that she looks sick and looked better before. It was a nice balance to all the concern about weight throughout the rest of the book. The movie, without this bit, does struggle in this area, though luckily it doesn't focus on it too much.
It's ironic that the character who plays Jude, Shirley Henderson, is introduced in this movie as crying in a bathroom. She went on to play Moaning Myrtle in "Harry Potter," a ghost who haunts a bathroom, often crying and flooding it. Also, it's weird that she plays a teenager in that film which came out a year after this one and a 30-something here.
We will see Embeth Davidtz, who plays Natasha, again in "Mansfield Park" [1999] where she appears as Miss. Crawford.
Best Movie Gif/Meme: "I dearly love a laugh."
This scene, with Bridget drinking alone and singing "All by myself," has to be one of my favorite title card sequences ever.

And this is just a favorite reaction gif of mine in general: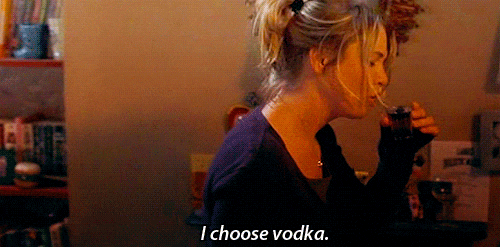 In two weeks, I'll review the YouTube adaptation, "The Lizzie Bennet Diaries"